Nothing is more dejecting than NOT landing a job offer for a position that YOU KNOW you could have crushed had you simply done something different during the interview process.
If you're targeting $200k+ roles like most of our clients, you'll want to make sure you're avoiding this mistake, as there are not a plethora of $200k+ roles out there.
What's the one mistake??
#1 Mistake = not asking good questions (at the right time)
Remember this: After every single interview that you go on during the process, each person that you meet with is asking themselves the following two questions:
Question #1: Can this person do the job?
Question #2: Do I like this person?
It's imperative that you get a 'yes' for both.
For the purposes of this post, let's assume you don't have any issues with Question #1.
How then, can we make sure that you blow Question #2 out of the water?
Ask good/strategic questions
Bonus: Knowing when to ask is just as important.
That's right:
50% of a successful interview is answering the questions they ask you well.
The other 50% is asking good and strategic questions at the right time.
Asking great questions can help you stand out in 3 specific ways:
1: Turning the interview from transactional to conversational
2: The right questions can give you much needed insight into their biggest pain points. Thus allowing you to think of responses that position you as a solution to their pain point
3: Helps you to build rapport
7 great questions you can ask (and when to ask them):
The Beginning:
Here are the first two questions you should always ask:
"Thank you for taking the time to meet with me today, I'm excited to be here. Before we get started, would it be okay if I asked what it was about my background or experience that made you want to meet with me?"
Note: The answer to this question is powerful. It tells you exactly what is and isn't relevant to the interviewer. Now you know what you should focus on throughout the interview.
Ask them something about their background that interests you (nothing personal or intrusive):
Here"s a few examples:
"Thank you for that (referring to the first question). Btw, in doing my research, I noticed that you worked at your last company for 9 years prior to coming here. What was it about this company that made you decide to ultimately leave?"
Conversely you can ask, "I noticed that you've been at this company for 7 years. What is it about this company that has kept you here for so long?"
A background question: "I noticed that prior to joining this company (let's assume it's a fintech company), you were in the pharmaceutical industry for the past 12 years.. What made you transition into fintech and how did being in pharma help you prepare for this industry?"
Note: This is a sneaky way to find out what they value about their current company (which you can use throughout your interview, too), along with showing them that you did your research.
The Middle:
"What are the top 3 to 5 initiatives you're hoping for this person to achieve within the next 12 months?"

"What KPI's are you using to measure success in this role within the first 30-60-90 days, and ultimately within the first 12 months?"
Note: Asking these questions will not only give you even more clarity around what the interviewer(s) finds important, what KPI's their measuring, and it also shows them that you are thinking ahead and envisioning yourself in the role.
"In what ways would I be making your life and/or the team's life easier by stepping into this role? Are there any bottlenecks currently in the workflow that the team hasn't had a chance to remove, that someone in this role could?"
Note: These questions allows you to figure out what the interviewer's biggest pain points are so that you can position yourself as a solution to those pain points using past STAR examples.
** Feel free to ask any other questions that you feel are specific to the role, but at the end of the day, you want to ask questions that allow you to gain clarity into what problems they are facing (hence why the position is open), so that you can brainstorm/co-create solutions to those problems**
The End aka How to Close:
Here are the final two questions that you should be asking to close the interview:
"Thank you so much for taking this time w/ me today. I learned a lot. Before we wrap up, would it be okay if I quickly recapped what I think you're looking for in this person?"
Note: You don't want to use this as an opportunity to regurgitate the job description back to them, but rather, use this as an opportunity to reiterate their pain points, and how you might possibly solve them
Note: The recap is as an awesome tactic because it demonstrates active listening, and also allows you to reiterate how you might be able to help achieve the results they are seeking
"Based on that recap, do you have any concerns about my ability to step into this role and be effective? Because I'd love the opportunity to clarify or confirm your concerns."
Note: This shows that you have a lot of confidence in yourself to be able to validate concerns + it can help you address and possibly overcome concerns too (if done correctly), and you can end the interview knowing that you left it all on the table.
TL;DR:
Asking good questions is equally important as having good responses.
Doing so can also turn the interview from transactional to conversational (which is always a good sign).
Lastly, the questions above will give you some strong insight into what they find important, which you can then use as you formulate your answers.
Resources:
Resource #1: A few weeks back, I held a workshop that walks you through exactly how you can execute the perfect interview. It puts all of the above together + I provide examples + 3 strong frameworks that will with demonstrating soft skills that are very important for $200k+ roles. You can watch it here.
Resource #2: Something our clients love: We help our clients prepare before every single interview they go on AND debrief after, too.

We help them with:

Nervous system regulation
Building an empowering mindset
How to prepare for questions that YOU WILL get be screened for such as: Behavioral, Cultural, Technical, Leadership, Quantitative thinking, Case studies, Panels, etc.,

If you've been considering starting the job search, we have 3 seats open!!
To apply, book a no-obligation/free strategy call with me here

We do have limited seats, so only book this IF you're serious and you're targeting $200k – $500k jobs in tech.
Good luck on your next interview, and let me know how it goes!
Yours in abundance,
Gaurav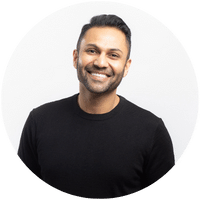 Gaurav Valani
Founder
Gaurav is a former Recruiter, VP of Talent at Overstock.com and co-founder of TrueBridge Resources (a nationwide staffing agency which he grew to $72M prior to acquisition). He has not only recruited for, but helped clients land jobs at some of the world's most admired companies such as: Google, Apple, Netflix, Coca-Cola, Disney, and LinkedIn.